Description
Create Up to a Gigabit Speed Network in Your Powerline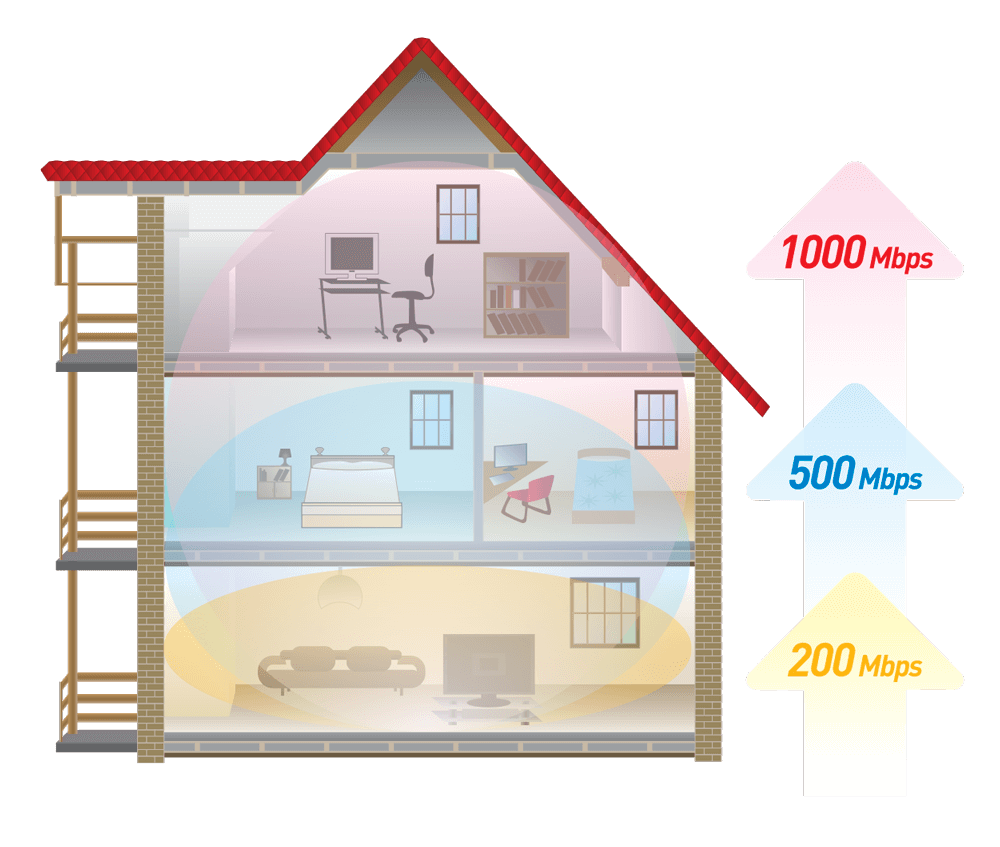 No extra wires or configuration required
The Zyxel PLA5206 lets you create a network using your home's existing electrical wires easily extending Internet connectivity throughout the building while eliminating the need to drill through walls or install additional network cables. Forget about complicated setup procedures; no configuration is required. Just plug your PLA5206 into a power outlet and create a completely functional network.

Perfect for connecting smart TVs and playing on-line games
The Zyxel PLA5206 provides speeds of up to 1000 Mbps*, accelerating network applications like HDTV, multimedia HD streaming and online gaming. Users can easily transmit multiple HD streams and even 3D movies to every room quickly and smoothly.

Specifications:
Standard
Compliant with HomePlug AV2
IEEE 1901 and HomePlug AV standard
Powerline Data Rate
Transmit: up to 1000 Mbps*
Receive: up to 1000 Mbps*
Range – Max. range up to 300 meters over power line
Power Saving Mode – When there is no Ethernet link in 60 seconds
Security – 128-bit AES encryption
Quality of Service (QoS)
ToS
Supports up to 4-level type QoS
Support up to 8-level VLAN priority field
Frequency Band – 2 MHz to 86 MHz
IGMP – IGMP v1/v2/v3
System Requirements
Operating system independent: Ethernet: RJ-45
Utility Software OS support: Microsoft Windows XP/Vista/7/8
Ethernet interface: One 10/100/1000 Mbps RJ-45 connector with auto MDI/MDIX support
LED indicators:

Power on/off
Powerline network quality:

– Green: Best; Amber: Better; Red: Good

Button: Encrypt/Reset button
Power rating: 100 to 240 V AC, 50/60 Hz
Power consumption:

Full operation: 4 watt max.
Power-saving mode: 0.5 watt max.
Item dimensions (WxDxH): 61 x 93 x 32 mm (2.4" x 3.66" x 1.26")
Item weight: 100 g (0.22 lb.)
Packing dimensions (WxDxH): 151 x 176 x 85 mm (5.94" x 6.92" x 3.34")
Packing weight: 360 g (0.79 lb.)
Operating Environment

Temperature: 0°C to 40°C (32°F to 104°F)
Humidity: 10% to 90% (Non-condensing)

Storage Environment

Temperature: -30°C to 70°C (-22°F to 158°F)
Humidity: 10% to 95% (Non-condensing)