Product Description
Agile traffic control for converged networking applications
Zyxel XGS2210 Series has a rich Layer 2 feature set that can shape the traffic for diverse VoIP, video conference, IPTV and IP surveillance deployments and provide hotels, businesses and educational institutions greater agility and more effective traffic management for the converged applications of today.
Stacking Capability
The XGS2210 Series allows creating a physical stack through two standard 10-Gigabit SFP+ ports to  facilitate management for multiple switches with one single interface.
High-powered Power over Ethernet (PoE)
The Zyxel XGS2210 Series PoE switches support the IEEE 802.3af PoE and 802.3at PoE Plus standards, which provide up to 30 watts of power per port for advanced Powered Devices (PD) like 802.11ac wireless APs and video IP phones. The high power budget enables the XGS2210 PoE switches to comfortably accommodate the PDs required in a modern network edge.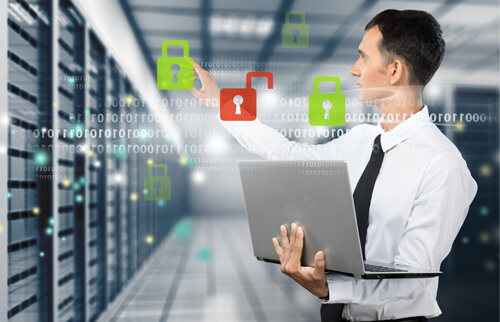 High level network and access security
Zyxel XGS2210 Series offers enhanced control and isolation for improved convergence of video, voice and data. Such advanced defense mechanisms as IP source guard, DHCP snooping, and ARP inspection can detect and block intentional network attacks. Combining multiple L2, L3 and L4 filtering mechanisms with such education – and hospitality friendly features as MAC freeze, port isolation and guest VLAN, the Zyxel XGS2210 Series offers a high level of security, flexibility and control for diverse access layer deployments.
Application Diagrams
IPTV, surveillance and guest access (hospitality)
Each guest room can be assigned a dedicated data VLAN to provide better isolation and security to the Internet users
The MVR function allows a single IPTV multicast VLAN to be shared with all the set-top boxes while the subscribers remain in separate data VLANs
The total PoE power budget of up to 375 watts provides full supports to wireless APs and IP surveillance devices. (24HP/28HP/48HP/52HP)
Enabling the IGMP snooping function allows IPTV traffic to be directed to the subscribers only, which reduces the waste of bandwidth caused by multicasting IPTV traffic to all ports
The rich QoS feature set provides effective bandwidth prioritization and control to ensure various services quality and prevent bandwidth abuse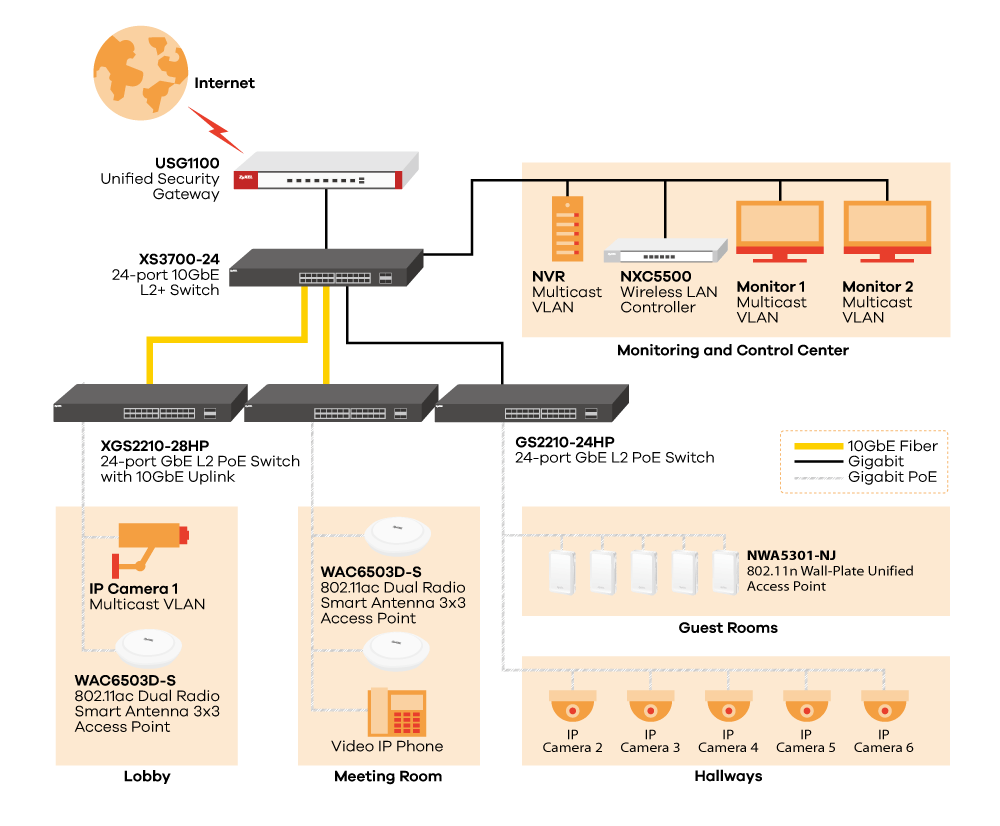 Robust network infrastructure (education)
The high power budget makes the XGS2210 Series perfect for classroom WLAN deployments with many APs for student digital textbooks
The XGS2210 Series switch can separate the teacher's network from the student's network and grant different bandwidth privileges with port-based and ACL-based bandwidth management
Support for 8 hardware queues per port and QoS based on 802.1p and DSCP reduces traffic congestions for latency-sensitive interactive learning applications
Advanced defense mechanisms like IP source guard, DHCP snooping and ARP inspection safeguards the network from intentional attacks

Specifications:
Models
XGS2210-52HP
Product name
48-port GbE L2 PoE Switch with 10GbE Uplink
Switch class
Layer 2
Port Density
Total port count
52
100/1000 Mbps
–
100/1000 Mbps PoE
48
10-Gigabit SFP+
4
Stacking
Yes
Performance
Switching capacity (Gbps)
176
Forwarding rate (Mpps)
130.9
Packet buffer (byte)
1.5 M
MAC address table
16 K
L3 forwarding table
Max. 1 K IPv4 entries; Max. 512 IPv6 entries
Static route
64
IP interface
32
Power
Input
100 – 240 V AC, 50/60 Hz
Max. power consumption (watt)
495
PoE power budget (watt)
375
Physical Specifications
Item
Dimensions (WxDxH)(mm/in.)
440 x 330 x 44.5/17.32 x 12.99 x 1.75
Weight (kg/lb.)5.38/11.86
Packing
Dimensions (WxDxH)(mm/in.)
586 x 452 x 97/23.07 x 17.8 x 3.82
Weight (kg/lb.)
6.75/14.9
Included accessories
Power cord
Rack mounting kit
Green Feature
Fanless
–
Environmental Specifications
Operating
Temperature: 0°C to 50°C/32°F to 122°F
Humidity: 10% to 95% (non-condensing)
Storage
Temperature: -40°C to 70°C/-40°F to 158°F
Humidity: 10% to 90% (non-condensing)
MTBF (hr)
500904
Heat dissipation (BTU/hr)
1688
Acoustic noise (dBA)
57.6