Description
This new range of Samson Premium cables has been manufactured using triple shielded cable and metal insulated gold plugs to give you maximum EMI protection. The leads have been tested and certified by an Authorised Testing Centre (ATC) to comply with the latest HDMI standards and benefit from having Ethernet as well as being compatible with 4K UHD (2160p), Full HD (1080p) and 'deep colour'/HDR resolutions, 3D and ARC (Audio Return Channel).
Premium Certified Anti-Counterfeiting System:
This new development ensures that you can see at a glance that this range of cables has been tested and certified and that these will meet all your requirements. The anti-counterfeiting label has encrypted data in the QR Code that allows you to quickly verify the authenticity of the cable by using your smart phone with the free HDMI Premium Cable App. With your purchase of the Samson Premium cable you can be assured that you can enjoy the full 4K Ultra HD experience when viewing 4K content.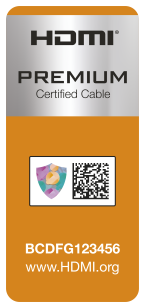 Key Features:
Guaranteed 4K/UHD Performance (4K/UHD @ 60Hz)
ATC Tested and Certified
High Speed
Maximum EMI Protection
Ethernet and Audio Return Channels
Supports:
Full 4K//Ultra-HD resolution (2160p@60Hz 4.4.4)
HDR (High Dynamic Range)
High Bandwidth (Full 18 Gbps)
High Frame Rate (600MHz)
BT2020 Colorimetry (10/12 bit/4.4.4)
ARC (Audio Return Channel)
CEC (Consumer Electronics Control Support)
32 Channel Audio (Dolby Atmos and DTS.X Support)
Full High Definition 3D Support
HDCP 2.2 Compliant
HDMI Ethernet Channel